Food & WIne At Abbey Hotel
Special Occasions Deserve a Special Setting at the Abbey
Send your enquiry to us by email events@abbeyhotel.ie
Why not experience the culinary delights of the Multi-Award Winning Chefs at the 4* Abbey Hotel Roscommon, for a dining experience where casual elegance and sophistication meets in a timeless relaxed atmosphere. County Winners of the RAI Best Chef & Best Hotel Restaurant Award 2019.
The newly refurbished restaurant at the 4* Abbey Hotel in Roscommon has been recently refurbished to an exceptionally high standard and offers a varied range of dishes prepared from only the freshest of locally sourced produce and served with great care and attention to detail, therefore making it the perfect setting, whether dining in Roscommon for business or pleasure.
We offer an extensive Seasonal Bar Food Menu for those wishing for a less formal experience. Lounge Food is served daily from 4.30 - 9.00 p.m. Afternoon Tea is available ( with prior booking essential)
It is advisable to make dinner reservations as our restaurant and lounge areas can be very busy at weekends and during the busy peak season. With the current COVID restrictions all those wishing to dine in the Lounge area must pre book their table. We also have a new Pizza Menu available to eat in or take out.

After dinner guests can relax by the open fire in the luxurious newly refurbished lounge areas or in the Abbey Hotel Bar.
There is an extensive drinks and 'Wines of the World' menu to choose from and a range of Cocktails are also served including the RAI award-winning 'Apple of my eye' Martini. We also serve an extensive range of craft beers, whiskeys, and liquors.
The Abbey Hotel is renowned for it's Sunday Lunch with Carvery Lunch served from 12.00pm - 4.00pm
We also serve a Four-Course Lunch Menu in our award-winning Restaurant.
Dinner is served from 6pm - 9pm each evening with Seasonal Bar Food served from 4.30 - 9.00 p.m daily.
Our exquisite Dinner Menu comprises of a Set Menu or you can choose from our A La Carte Menu. Special Occasion Menus are available for Dinner Dances, Gala Balls, Christenings, Birthday Parties, Communions, Confirmation, and Retirement parties.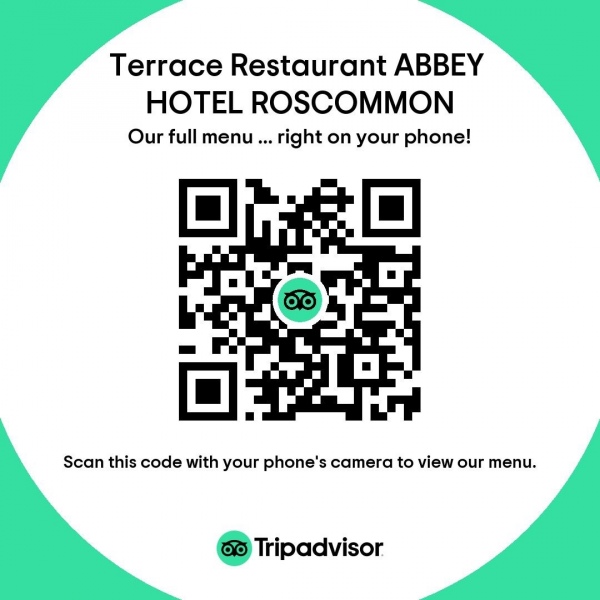 Inquiries Call 090 6626240 or email events@abbeyhotel.ie